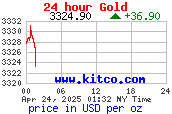 With the price of gold and precious metals rising; many organizations are buying scrap jewelry in "buy back programs". Below is a brief overview of how Skyray XRF offers an economic solution to accurately determine the full constituents and value of a piece of jewelry.

Overview…Many jewelry retailers have once again started buying scrap jewelry because of the slowing economy and the price of gold and other precious metals. Many retailers offer "gold buy back programs" as a way to increase store traffic and, most important, increase cash flow when they resell the jewelry over the counter or sell it to precious metal refiners.

XRF to Test Scrap Jewelry?
While x-ray fluorescence (XRF) analyzers were developed as a measurement device, with proper software and set-up they are also one of several methods that can be used to test scrap jewelry. No other non-destructive testing method can offer the accuracy and full constituent results that XRF analyzers can.
Depending on the instrument configuration, XRF can simply provide
the percentage of gold in a piece
but may also offer information on any other constituents that a jeweler would want to know (including silver, platinum, etc).

What about the Speed of XRF Analysis?
The person using the instrument can decide how long a test will be run for, typically Skyray XRF users will obtain accurate results of scrap jewelry in less than one minute if needed and many retailers prefer testing to take at least that amount of time – because it gives the person selling time to look around the store and see what the retailer has to offer. That factor plus the accuracy of XRF are the major benefits in this application.

What XRF Models are the Most Popular?
While most of the Skyray XRF instruments perform identification of unknown jewelry, the models EDX-3000 and EDX-600 are the most popular units for jewelers because they are compact chambers (don't take up retail store space) – and both are low-cost options. The EDX-3000 is our most popular analyzer and the answer for full precious metal analysis and the EDX-600 is our lowest cost unit and an excellent machine for gold testing needs - however, mobile testing capabilities are becoming popular and the EDX-660 (mobile desktop) and handheld system are growing in popularity.
No matter what your budget or exact testing needs, Skyray XRF will have a few options worth considering.